One of our favorite things is having a chance to work with teachers around the world. Here, we'll list some of our upcoming presentations, workshops, and courses. If you're in the area, we'd love to meet you in person!
Upcoming Presentations
Thursday, April 30, 2015
Barbara Hoskins Sakamoto
Designing creative and effective teaching materials
Seminar and workshop at ILP Pancoran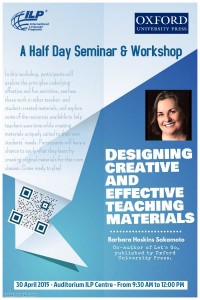 Friday, May 1, 2015
Barbara Hoskins Sakamoto
Moving Beyond 21st Century Skills
Plenary at LIA International Conference, Yogyakarta
For information: CLICK HERE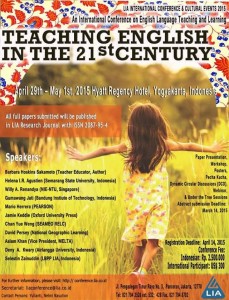 Saturday, May 2, 2015
Barbara Hoskins Sakamoto
iTDi Day: Creative teaching for 21st century learners
Universitas Muria Kudus
Registration deadline: April 25, 2015.
How to Register:
Type " reg-ISW-name-institution " and send to " +6285727433303 "
(registration fee needed, please find the poster for more details)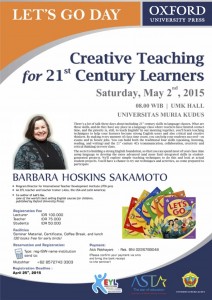 Past presentations
Sunday, March 15, 2015
Ritsuko Nakata
Building the Fundamentals for Communication, Grammar & Creativity in Kids' Classes
Fukuoka, Japan
Part of the Oxford Teaching Workshop Series
For more information and to register: CLICK HERE